Musician-turned-award winning author
A METRO & EVENING STANDARD BOOK OF THE YEAR
'A rollicking read….a tale of hedonism and opportunism, of great hope and dashed expectations.' MAIL ON SUNDAY
'A grade, A list oral history' SUNDAY TIMES
'Eminently, moreishly readable' NEW STATESMAN
'A fascinating step back to right before the web, smartphones and streaming changed the face of culture' STYLIST
'I tore through it, savouring every high and low point of this hazy, hard-to-define epoch' EVENING STANDARD
'Remarkable' ART REVIEW
'Book of the Week' GUARDIAN
'The tumult, the triumph and the toilery of the 90s…a who's who of the decade' SHAUN KEAVENY, BBC 6 MUSIC
'Without question, the definitive telling of what Britain was in the nineties, who Britain became and how that has come to define the times we live in now' M.M.A
'I absolutely devoured it' CHRIS WARBURTON, BBC RADIO 5 LIVE
 'We guarantee, this will change the way you think about the era you lived through'
DAVID HEPWORTH
'It's so original to read about the 90s that takes in all those different perspectives  and doesn't just paint a picture of a heap of cocaine with Noel Gallagher in the middle of it' MARK ELLEN
* WINNER: PENDERYN BOOK OF THE YEAR
* Radio 2 Book Club choice
'A triumphant oral history'  GUARDIAN
'A colossal and brilliant book'  SHAUN KEEVENY, BBC 6 Music
'A majestic work' THE WIRE
'A fabulous book'  JONATHAN ROSS , Radio 2 Arts Show
'Daniel Rachel's superlative oral history… a brilliant account of the period.' Q
'Brilliant insight' MOJO
'Glorious'  TRACEY THORN, New Statesman
'Absorbing an intriguing….a well researched and passionate book.' LOUDER THAN WAR
'An amazing oral history of a time when pop culture fought against the forces of darkness. ' BILLY BRAGG
'An important book, crammed full of photos & the real story of how a great number bands got together & actually did something to change things in the UK.' CHALKIE DAVIES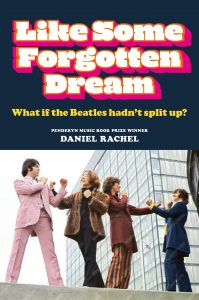 Hardback publication: 26 August 2021
The end of the Beatles wasn't inevitable. It came through misunderstandings and missed opportunities to reconcile.
But what if it didn't end? What if the Beatles had made one last masterpiece – a great, lost album?
This is the story of what could have been…
Drawing on impeccable research, Rachel examines the Fab Four's untimely demise – and from the ashes compiles a track list for an imagined final album: Four Sides of the Beatles. Formed of unfinished demos, forgotten B-sides, hit solo songs and more besides it is the blueprint of a lost Beatles masterpiece, the album that never was.
Compelling and convincing, Like Some Forgotten Dream is a daring re-write of Beatles history, and a tantalising glimpse of what might have been.
Hardback publicatio: 26 August, 2021
"A WONDERFUL DOCUMENT OF THE LAST GREAT GATHERING OF THE PRE-INTERNET AGE.
NO CAMERA PHONES, NO SOCIAL MEDIA, JUST A BAND AND ITS FANS AS ONE."
– NOEL GALLAGHER
On the 10th and 11th August 1996, Oasis
played Knebworth, the concerts that would
define them, a band at the height of their
powers playing to over 250,000 people.
It was the music event of the decade.
Twenty-five years on, Oasis: Knebworth
– Two Nights That Will Live Forever by
is the definitive account of two
nights that a generation will never forget.
Containing hundreds of never-before-seen
it covers events from relaxed
rehearsals and warm-up concerts to being
backstage with the band, flying over the site in a helicopter and even on-stage at Knebworth
itself, in front of a sea of adoring fans.
Over 250 breathtaking images are partnered
by Daniel Rachel's evocative text drawing on
exclusive interviews with the people behind
the concerts, including Noel Gallagher,
Alan McGee, backing musicians, Creation
management and many more besides.
A GUARDIAN & NME BOOK OF THE YEAR
''This is without doubt the finest book I've ever read about songwriters and the songs they write. Fantastic, insightful interviews. I remember being interviewed for it at the time and thinking, "I wish all interviews were like this'  NOEL GALLAGHER
'After all these years to be asked original was very impressive' ROBIN GIBB
'Really intelligent, clued up and musically astute' WEEKEND SPORT
'A fascinating book' MIRANDA SAWYER, BBC Radio 4
'Fascinating insights' GUARDIAN
'As fascinating  as his subjects' NME
'In depth, scholarly' Q
'An unmissable collection'  SONGWRITING
'Absolutely fantastic'  JANICE LONG, BBC Radio 2
'Revelations abound. This is a must for all songwriters and lovers of song' PAUL ZOLLO, author Songwriters On Songwriting