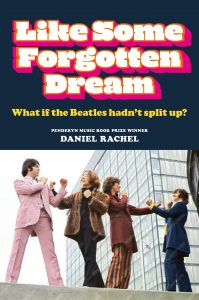 LIKE SOME FORGOTTEN DREAM
What if the Beatles hadn't split up?
DANIEL RACHEL
Publishing 26th August 2021 | Cassell | £20
In Like Some Forgotten Dream, Daniel Rachel – winner of the prestigious Penderyn Music Book Prize – looks at the last, lost Beatles album. Drawing on impeccable research, Rachel examines the the Fab Four's untimely demise and from the ashes
compiles a track list for an imagined final album: Four Sides of the Beatles. Formed of unfinished demos, forgotten B-sides, hit solo songs and more besides, it is the blueprint of a lost Beatles masterpiece – the album that never was. Compelling and convincing, Like Some Forgotten Dream is a daring re-write of Beatles history that offers a tantalizing glimpse of what might have been.
The books publishes to coincide with the release of Get Back, a major, official Beatles documentary looking at the final months of the band, directed by Peter Jackson. Beatlemania will grip the nation again!