British 70s protest-music chronicle wins music book of the year
 Daniel Rachel's Walls Come Tumbling Down, an exhaustive account of the Rock Against Racism, 2 Tone and Red Wedge movements, takes the Penderyn music book prize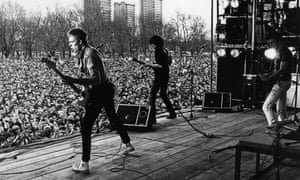 An exhaustively researched history of pop music's impact on British political life during the 70s and 80s has won this year's Penderyn music book prize. Walls Come Tumbling Down won its author Daniel Rachel the £1,000 prize at the Laugharne Weekend music and literature festival in south Wales, the prize's home since it was first presented in 2015.
Walls Come Tumbling Down, subtitled The Music and Politics of Rock Against Racism, 2-Tone and Red Wedge, explores how revulsion at Eric Clapton's drunken attack on "wogs" and "coons" at a Birmingham gig in 1976 provided the spark for a significant protest movement led by the British music industry.
Telling his audience to vote for Conservative politician Enoch Powell to prevent Britain becoming a "black colony" – after having scored a hit with his cover of Bob Marley's I Shot the Sheriff – Clapton's remarks came at a time when the far-right in Britain were gaining power. The incident prompted the beginnings of Rock Against Racism, a grassroots movement in which bands, often multiracial, rallied against prejudice. The campaign helped make racism unacceptable in Britain and eventually went international, with Jerry Dammers' band the Special AKA recording Free Nelson Mandela; a song that captured global anger at the ANC leader's imprisonment and was played at rallies by Mandela supporters in South Africa.
Rachel's book also follows the activities of Red Wedge, a socialist effort led by musicians including Billy Bragg and Paul Weller to rally younger voters to end Margaret Thatcher's term as prime minister.
At the ceremony on Sunday afternoon, a delighted Rachel said the last time he had won a prize was when he was eight years old. He added: "It was the same day I was inadvertently driven into a National Front march in the middle of Birmingham city centre. That moment was the genesis for Walls Come Tumbling Down, via much skanking to 2 Tone records and a healthy shot of anti-Thatcherite songs from the Red Wedgers to shake up my hardcore Tory upbringing."This is a triumphant oral history of Rock Against Racism, 2 Tone and Red Wedge, a timely account of 1970s-80s musicians who fought against bigotry and Thatcherism
The book was chosen by a judging panel featuring musicians Charlotte Church, Tracey Thorn and Eliza Carthy, alongside Roundhouse director of music Jane Beese, Rough Trade records founder Geoff Travis and comedian Stewart Lee. Lee said Rachel's was his favourite of the books and one "I think is very important at this moment in time, too".
Chair of judges and prize founder Richard Thomas described Walls Come Tumbling Down as "a big book of real gravitas". It beat seven other titles including Brix Smith Start's memoir The Rise, the Fall, and the Rise, about the US musician's adventures in British art rock; Stuart Cosgrove's "personal history of northern soul", Young Soul Rebels; This Is Grime, Hattie Collins and Olivia Rose's history of the music genre and how it emerged from London's East End; and Band singer and Dylan collaborator Robbie Robertson's memoir Testimony.
As well as his cheque, Rachel also took home an appropriately rock'n'roll bottle of strong liquor, from Welsh malt whisky distiller and prize sponsor Penderyn.