The music of Daniel Rachel and Rachels Basement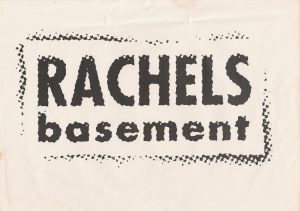 Daniel Rachel was the leader singer and songwriter of Birmingham band Rachels Basement. Although the four-piece remained unsigned, Rachels Basement played to sold out venues and rave revues undertaking several nationwide headline and support tours. Courted on many occasions by the record industry – including prestigious residencies at UB40's and Rockfield Studios – the band's time was not then.
'Shot In The Dark' recorded at Rockfield Studios, interview and promo filmed at the Custard Factory, Birmingham.
Featurette including 'Quit Your Low Down Ways' recorded and filmed at Rockfield Studios.
'Shake' recorded at the Magic Garden, Wolverhampton and filmed at the Railway, Birmingham by the original Rachels Basement line-up.
In 2000, Daniel moved to London and established Dust Records for the release of the self-financed debut album 'A Simple Twist of Folk'. Released in 2001 the album received much critical acclaim and was described by Mojo magazine as, 'A brave, honest record, shot through with beautiful melodies, lyrical and resonant as its title suggests.'
Two limited edition seven inch singles; 'Burned By The Wire' and 'Dear Friend' followed before a second album ' A Taste of Money' was released in 2006. The album featured the single 'Let It Be Mine' which reached No.28 in the Official Independent Singles Chart in January 2008.
A final single 'Hearts and Bones' was released before Daniel 'guillotined his career' and set about a conversion from musician to author. ' Isle of Noises: Conversations with Great British Songwriters was published by Picador in 2013 and was a Guardian and NME Book of the Year.
Read Daniel Rachel album, single, and live reviews by clicking on this link.
Click on the individual record sleeves for additional content