Walthamstow Rock 'n' Roll Book Club
February 6, 2020 @ 7:00 pm

-

10:00 pm
We blast into 2020 by correcting a wrong. We have signally failed to bring Daniel Rachel to Walthamstow. We somehow missed the boat with the magnificent and timely (Penderyn Award winning) social history, 'Walls Came Tumbling Down', and neither of our schedules allowed room to talk about either his great biog of Ranking Roger or the fascinating oral history of 'Britpop' 'Don't Look Back In Anger'.
That was then.
The nineties was the decade when British culture reclaimed its position at the artistic centre of the world. Not since the 'Swinging Sixties' had art, comedy, fashion, film, football, literature and music interwoven into a blooming of national self-confidence. The decade of Lad Culture and Girl Power; of Blur vs Oasis. When catwalks shone with British talent, Young British Artists became household names, football was 'coming home' and British film went worldwide. From Old Labour's defeat in 1992 through to New Labour's historic landslide in 1997, Don't Look Back In Anger chronicles the Cool Britannia age when the country united through a resurgence of patriotism and a celebration of all things British. But it was also an era of false promises and misplaced trust, when the weight of substance was based on the airlessness of branding, spin and the first stirrings of celebrity culture. A decade that started with hope then ended with the death of the 'people's princess' and 9/11 – an event that redefined a new world order.
Through sixty-eight voices that epitomise the decade – including Tony Blair, John Major, Noel Gallagher, Damon Albarn, Tracey Emin, Keith Allen, Meera Syal, David Baddiel, Irvine Welsh and Steve Coogan – we re-live the epic highs and crashing lows of one of the most eventful periods in British history. Today, in an age where identity dominates the national agenda, Don't Look Back In Anger is a necessary and compelling historical document.
Daniel Rachel is a former musician and award-winning author whose previous works include: Isle of Noises (a Guardian and NME Book of the Year), Walls Come Tumbing Down (winner of the Penderyn Music Book prize), When Ziggy Played the Marquee by Terry O'Neill (editor) and co-writer of Ranking Roger's autobiography I Just Can't Stop It: My Life in The Beat. Daniel currently lives in North London.
Website: www.danielrachel.com
Twitter: @DanielRachel69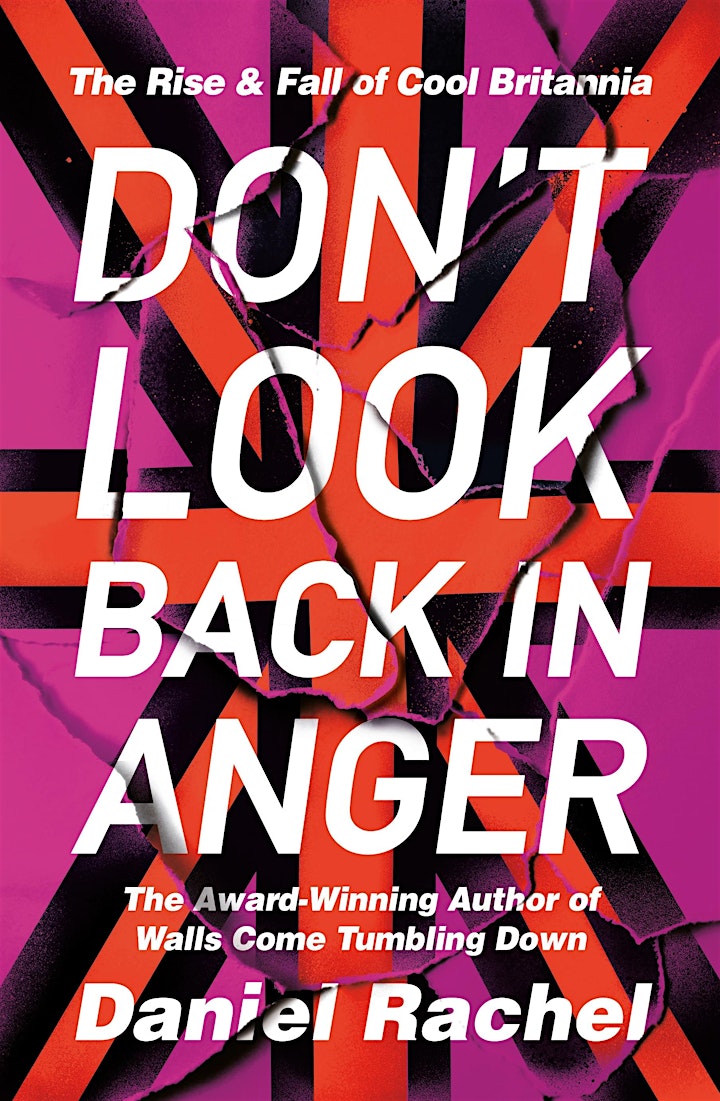 Cheers and Happy New Year! Mark

Walthamstow Rock 'n' Roll Book Club
Thursday, February 6, 2020 from 7:00 PM to 10:00 PM (GMT)

Waterstones Walthamstow
The Mall, Selborne Walk
#Unit 30 – 31
Walthamstow E17 7JR
United Kingdom
View Map